Biologically active food supplement "Polar explorer" (hematogen)
Biologically active food supplement "Polar explorer" (hematogen)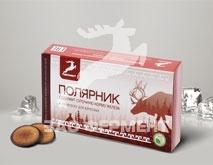 Scope: Hematogen is a product, indented for correction of metabolic disorders. It is a source of iron and vitamin «C», dietary fiber, and also of a sustainable protein, fat, carbohydrates and minerals, which are contained in proportions close to the composition of human blood. «Polar explorer» stimulates hematopoiesis, helps the absorption of iron in the intestine, increases the hemoglobin level in blood, regulates redox processes in the body.
The daily dosage (50.0 g) contain the % of RDI (Recommended Daily Intake): of iron — 71% (10.0 mg), of vitamin «C» — 50–83% (30–50,0 mg).
Composition: 1 bar (50 g): Whole sweetened condensed milk with sugar; sugar syrup; starch syrup; BAA «Gemolen» (reindeer dry blood); wheat fiber; thyme extract, peppermint extract, ascorbic acid; BAA «Pantel», flavor natural vanilla.
Nutritional value per 100 g: protein 10g, fat 5g, carbohydrates 79g, the energy value 417 kcal.
Direction for use: Adults take half the bar twice a day. Consult with your doctor before taking the medication.
Contraindications: individual intolerance to any component, pregnancy, breast-feeding, carbohydrate metabolism, overweight. Consult with your doctor before taking the medication.
Pharmaceutical form: 50g bar, packed in double aluminum foil Flow Pack in a cardboard box.
Storage conditions: Store in a dry place protected from sunlight and out of reach of children, at a temperature not exceeding 25 ° C.
Storage life: 1 year.