Biologically active dietary supplement Northern Pantocrin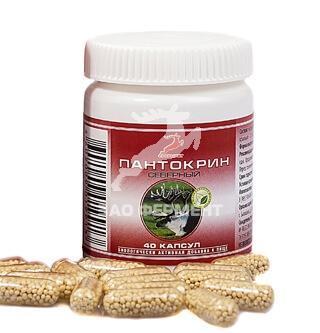 TU 9197-009-13148879-11
Formulation:
1 capsule (300 mg):
biologically active supplement Pantel (35mg);
excipients: microcrystalline cellulose (263.5 mg),
potato starch (1.5 mg).
40 capsules in one plastic bottle.
Action:
exercises a tonic effect on the central nervous system, cardiovascular system and bodily resistance, lowers susceptibility to infectious diseases and increases physical and mental capabilities.
Indications:
for increased fatigue during periods of recovery from infectious diseases and surgery, for weakness, neurosis and sexually-related functional disorders.
Recommended dosage:
for adults, 3 capsules (tablets) in the morning and 2 capsules (tablets) in the evening before meals.
Consultation with a physician prior to use is recommended.
Length of administration 2-3 weeks; can be repeated after 10 days if necessary.
Pharmaceutical form:: 300 mg capsules.
Counterindications:
individual intolerance of ingredients, pregnancy and breastfeeding, high blood pressure, pronounced atherosclerosis, angina, hypercoagulability.
Sold through pharmacies and specialized departments in commercial outlets.
Not a medicine.
Store in a dry space away from light and inaccessible to children at a temperature no higher than 25°C.
Period of potency 2 years.
Description of dietary supplement Northern Pantocrin:
Consists of more than 80 biologically active substances
mineral substances such as chelate and ionic complexes
free amino acids
peptides
nucleic acids
lipid fraction
Well-balanced biologically active substances of an animal ensure all-round physiological impact on human's body.
The main effects on humans body of «Pantokryn Northern» :
preparation provides a restorative effect on the central nervous system, increases physical capability and mental capacity
positively effects on the state of autonomic nervous system, is specific for asthenia, neurosis, arterial hypotonia;
Boosts immune system, body resistance and reduces susceptibility to infectious diseases;
reduces fatigue and speeds up the recovery period after an illness or surgery;
boosts mood, overall health, it is possible to recover sleep removes headache
It is indispensable or functional disorders in the sexual sphere and for potency increasing
increases efficiency, physical sensitivity, speed-strength athletic qualities, accelerates the recovery processes.
In addition to all, It is worth mentioning that «Pantokryn Northern» is an active stimulant, which raises the sanogenetic possibility of the body, eliminates pre-disease state and prevents its transition to a severe state,which means that it can be widely used for prophylactic purposes.
No wonder that the people of Tibet call antlers a «pearl» of East Asian Medicine, and have been using them over a period of 5 centuries (in case to prevent the deseases and to tone up.

Indication
Indication Before intake of any medication it is worth to get acquainted with its main features. We present You «Pantokryn Northern» — a biologically active supplement, which indications are extensive enough. This information may be useful, so do not miss it.
In modern medicine, the medication may be effective in treating the following diseases:
various anemia
chronic fatigue
stress
defatigation
upset metabolism
It helps in recovering from any serious communicable diseases
it effective in rehabilitation after difficult injuries
tones up and relieves depression
In addition to all, the medication can be used by athletes as an additional supplement to sports nutrition.
«Pantokryn Northern» is especially perfect for those athletes who are engaged in power sports, such as weight lifting or bodybuilding.
Intake
Of course, it is very important to take the medication properly, only in this case it will be effective. Depending on the presentation of the medication it may be taken in the following dosage:
capsules (tablets) — 2–3 tablets should be taken no more than twice a day
That prescribing information of «Pantokryn Northern» can help anyone. Also it is worth noting that the medication must be taken for 30 minutes before meal.
The intake of the medication should be implemented under the treatment scheme. The intake period lasts for 3–4 weeks. But you can reiterate intake, after a few weeks. On our website you will find all the questions about «Pantocryne Northern». The intake instruction, price, and reviews are represented in the public domain.